Let's see if we can at least get through half of the entries today...
Entry #17:
Carolyn of
18thC Cuisine
from Michigan (I think, that's the mailing address for husband's
treenware
site!) opens up Part III of the DMBLGIT entries with beignets so good they'll make you want to heat up some frying oil right now! This was a
IMBB: Let's Get Frying
entry, and Carolyn lets us in on the secret to perfect beignets: rising. Apparently without double rising, beignets are just too airy light with little dough. I haven't had beignets since my last trip in New Orleans, but I'm now inspired to make them at home!
Entry #18:
Cenzina from
il cavoletto di bruxelles
from Italy has an twist for her 'local' theme by sharing with us these little cakes that are a local specialty in Cassano, a small town in Calabria in South Italy, where she used to spend summers there with her Calabrian husband. These are some stylish cakes! I love the chocolate design on the white icing and how the light kisses the white icing perfectly in this picture!! The texture of the cake itself adds mystery too, leaving me wondering how these little cakes must taste!
Entry #19: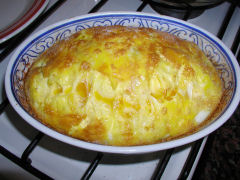 The last entry for this morning comes from Buenos Aires where Dan explores the Breakfast of Champions - a upside-down six egg casserole! The golden hue of the eggs with spots of browning sure looks delicious! Although this entry is the top side view, Dan gives the eggs a nice crust with potatoes and bread crumbs, which he then flips upside-down to make the crust side top. He made this dish with ingredients he already had on hand - ingenious creativity. You can check out the flipped over picture at
SaltShaker
!
That's it for the morning edition - check back later tonight to see the evening edition of DMBLGIT#9 - Part III!
PS:
Check the Previous Post section or click here for
Part III - PM Edition
, and
the Finale
.