Here we go with the PM edition of DMBLGIT #9 - Part III! This is a big one!
Entry #20:
Kicking off the PM edition is this succulent duck from Skrat, who, for the life of me, couldn't figure out where she is from, unfortunately... The duck, slowly basted to perfection, sits on a bed of shredded omelette - quite an intriguing accompaniment for serving duck! The juicy meat with the dash of color from the green onion is so very appetizing! I'm sure the other participants of the potluck/group cooking club enjoyed this one! Skrat, being so creative, has another version of how to serve duck, so stop by
My Indulgence
and check it out!
Entry #21: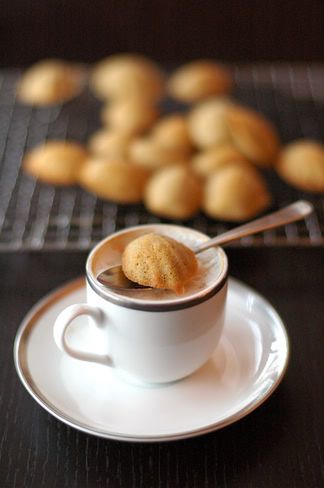 Chubby Hubby
from Singapore brings to us this dazzling photo of espresso-vanilla madeleines, a
SHF:Coffee
entry. His prose is equally beautiful as he discusses his process of maturation as a coffee connoisseur and his love for mini-madeleines. I also LOVE madeleines, and his mention of "the crisp surface" and the "buttery cake inside" totally reminded me of how much I enjoy those calorie bombs. I might just have to copy him and make a batch tomorrow night to bake them fresh with my Saturday morning coffee!
Entry #22:

Spacebar
from the Bay Area brings us none other than a humongous stack of grilled cheeses!!!! Check out the oozing cheese, toasted crumbs, and the inviting look of the stack! The texture of each bread slice also makes this an interesting shot. But you know what's even more interesting? I think I have the exact same set of dinner plates - are those the ones from World Market?
Entry #23:
Looks like Jack's got uni more fresh than I've ever had in the Bay Area!!! Jack from San Mateo, CA reports on
Project
that he discovered these colorful treasures Fort Ross in Jenner, CA - slightly north of Point Reyes. I say that's quite the local find! I love the fact that he shares with us the scientific names of abalone and uni too - such wonderful trivia to assault your local sushi chef with next time - "I'd like to have an order of Strongylocentrous franciscanus, please!"
Entry #24:
KitchenMage
from Columbia River Fog Valley in WA sends us this bread that looks so good I can almost smell it just by looking at it! This picture encompasses that freshness - the pleasantly chewy texture and the aromatic overtones of really good bread. The lighting really highlights the texture. It looks like this was almost a DMBLGIT #8 entry, but we're very happy you decided to send it our way for DMBLGIT #9!!
Entry #25:
Cin from Melbourne, Australia has a new fun toy! On
A Few of My Favorite Things
, she reports that her new soon-to-be bride friend (congrats!!!) brought her two gifts on her birthday - an invitation to be a bridesmaid (congrats!!!) and an Avanti Cookie Press. She used the cookie press to make these precious flower cookies, and they are so beautiful that I didn't recognize them as cookies when I first saw the picture! How in the world did she get that gorgeous faint pink for the petals??? This is so stunning, I honestly thought they were intricate Kyoto sweets!
Entry #26:
Sweetnicks
in New Jersesy cooks up a simple meal that's sure to satisfy with this Spaghetti with Cherry Tomatoes, Rocket (Arugula) and Parmesan. With just olive and garlic being the other ingredients, a simple preparation like this is sure to bring out the best from ingredients. The vivid red and green here really play up on the strength of summer vegetables!!
Entry #27:
Clea, my favorite French foodblogger, used to live in Japan, and I often visited her blog,
Clea Cuisine...
, to check out pictures of my Motherland despite my inability to read anything she wrote! I always knew she was a wonderful cook, whipping up Japanese recipes that looked better than what I could make, and sure enough, she brings us these fabulous apple and pepper scones. The sugar (I think...) topping looks so inviting!
Entry #28:
Augustus Gloop from Sydney Australia's
Grab Your Fork
has found a steal of a Japanese restaurant! This delicious-looking yakitori skewers came as a part of a multi-course extravaganza that cost only $31.80 for TWO. Yes, that's $15.90 for two people. And wait a minute, that must be Australian dollars! My head is spinning!! Look at these skewers that promise both grilled crispness and soft tenderness, united under the lusciousness of the sauce! At such bargain prices! I'd LOOOVE to find an equivalent in the Bay Area!
Entry #29:
Indira of
Mahanandi
shares with us Jangri, traditional sweets from India, usually made to celebrate marriages. These delicate flower shapes are made by masters of the art who pipe Jangri batter directly into hot oil. These deep fried treats are then soaked in cardamon-infused sugar syrup. That sounds so delicious! The flowers floating in the oil is really a beautiful image! I can almost hear the sizzling oil as the artwork is created right in the hot oil.
Entry #30:
Saffron, from Sydney, Australia, had one exciting day at The Good Living Grower's Market where this photo of locally produced dutch carrots and radishes were taken. The market happens once a month and feature only local produce and products from local farmers and purveyors. It's winter in Sydney right now, and this picture perfectly captures the crisp, refreshing, cold morning air of those winter months - the sun, shining with timid warmth and the clear cold air enveloping everything. Saffron shares many more photos of her market finds, so stop by
The Food Palate
to have a look!
Phew, that was a lot of deliciousness! I think that was almost too much epicurean debacuhery, but I've still got much more to report! Keep coming back, all week, all DMBLGIT, right here on My Epicurean Debauchery!
PS:
Check the Previous Post section or click here for
the Finale
.