It is my pleasure to introduce the winners of the DMBLGIT #9 tonight!!! All of the entries were truly wonderful, and all of the
judges
had wonderful things to say about the quality of submissions. I've added up all the scores from all five judges and sorted the data to determine which entry had the most total points to shine as the Grand Champion and which entry had the most points in each individual categories amongst Aesthetics, Originality, and Eatability. So without further adieu, here are the winners!
The GRAND CHAMPION of DMBLGIT #9 is...
Entry #25!!!!
Cin from
A Few of My Favorite Things!
in Melbourne, Australia is our winning entry. Her cookies with that amazing delicate pink won over the judges. Cin managed to also snag the Top Originality slot too as the Originality Champion! Double crowning for these gorgeous cookies!!! I also loved her post about her upcoming friend's wedding and her excitement about being a bridesmaid.
Next up, our Aesthetics Champion is...

Entry #21!!!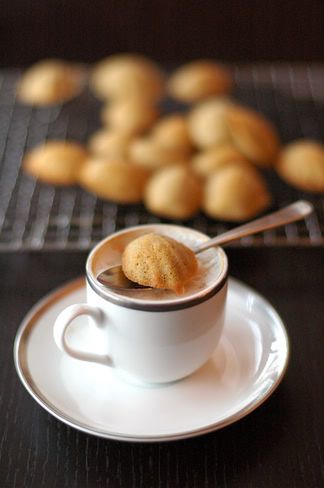 Chubby Hubby
's gorgeous photo from Singapore with exciting depth-of-field play and framing with madeleines blurred in the background captured the eye of the judges! This really is a beautiful shot - a sense of serenity comes through so nicely! And really, how did you get the spoon to balance so nicely, Chubby Hubby?
For the Originality Championship
, since the Grand Champion also took the Top Slot, I'm going to include the runner-up here. And the very close Runner-up is...
Entry #42!!!!
Fatemeh
of Gastronomie in the SF Bay Area shot to the Runner-up slot for originality with this flying banh mi (Vietnamese sandwich). Don't you think it looks like the sandwich is cruising along its neighborhood air borne?! With cilantro as its fluttering flag, this banh mi is ready for action!
We had a tie in the Eatability Championship!
The shared honor goes to our Aesthetics Champion, Cubby Hubby, and to...
Entry #44!!!!
Lynn from
To Short Term Memories
in Tokyo cruises into the Eatability co-Champion position with her trio of Pierre Herme mousses! These adorable shot-glass mousses are so inviting with a warm hue!
Finally, our Local Champion is...
Entry #18!!!!
Cenzina from
il cavoletto di bruxelles
in Italy whose post I still cannot read, but she told me how these delicate treats are a local specialty from a small town in Calabria. A great interpretation of the 'Local' theme in addition to being a beautiful shot of stylish cakes!
And that's all there is, folks! My role as the DMBLGIT #9 moderator is over! It's been a whole load of fun, and thanks to all the participants and the judges!!!!!